Do you need a unique promotion idea?
We've made Ladybirds in Germany, built edible Supermarkets in Ireland and created Footballers in Spain for a national TV show, so there is not much that we won't attempt.

Creative Food Design by Funky Lunch Founder Mark Northeast provides bespoke food creations in the following areas:

• Advertising Campaigns
• Brand or Product Promotions
• Packaging Design Content
• Event & Festival Centrepieces
• One-off commissions for TV
• Social Media Campaigns

We can work direct with Brands and Retailers, or feel equally at home within a creative agency helping to achieve their clients goals. Our previous clients have included:

• Retailers & Supermarket Chains
• Food & Drink Brands
• Marketing, PR and Creative Agencies
• Magazine and Book Publishers
• Event Organisers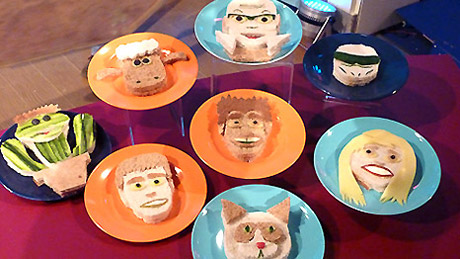 Not just sandwiches...
It's not just sandwich creations we've been asked to produce, Mark has made 100 edible Lego bricks to promote a DVD launch and spent over 7 hours constructing a Supermarket scene from fruit and vegetables.