Working with Actimel and Sophie Ellis-Bextor!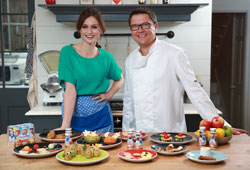 Funky Lunch founder Mark Northeast was recently asked to work with the lovely Sophie Ellis-Bextor to help promote the new Actimel for Kids yoghurt drinks. The challenge was to create a selection of nutricious and fun dishes for breakfast, lunch and snack time... with a space theme, to tie in with their new bottle designs.

As part of the promotion, Mark and Sophie shot some 'how to' videos for a few recipes which are being published through the ActimelUK Facebook page.

He also hosted a creative food workshop in London for some bloggers and their children. Click here to see photos from the event.
Vote for Funky Lunch in the What's on 4 Junior Awards 2014!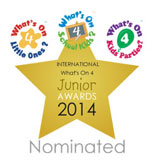 We're really excited to have got through to the voting stage for the 'Best National Activity for children aged 5-12' and also 'Best Children's Party Entertainment' in the What's on 4 Juniors Awards 2014!!

Many thanks to all the parents that nominated us. Please visit the site and vote for us to win in these categories.
Click here to visit the voting page on the What's on 4 Junior Awards website.
Many thanks!
Best UK Entertaining Cookbook at the Gourmand Cookbook Awards 2012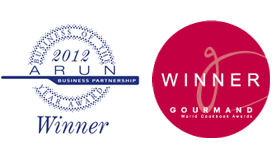 We are delighted to announce that our second recipe book Funky Party has won the Best UK Entertaining Cookbook at the Gourmand Cookbook Awards, it measn we now go forward to compete against four other books from around the world in the same category at the Gourmand World Cookbook Awards in Paris next February.
The second book was always going to be a hard one to write especially following the success of the first book Funky Lunch, so this award makes it even more special. Of course, I couldn't have done it without the help of the amazing team behind me at Absolute Press.
If that wasn't enough excitement to end the year on, we also picked up a couple of local business awards at the Arun Business Partnership Awards 2012. Winning Best Website and Business Person of the Year has really capped of an exciting year for us.
A Funky trip to Hamburg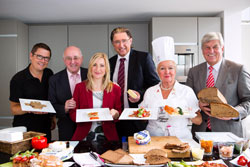 We love getting requests to help out on food projects, so jumped at the chance to get creative with German specialist cheese brand LOOSE.
This little adventure took us to Hamburg to create some fun looking edible treats for a press event promoting the companies unusual cheese. As part of the event we worked alongside the Danish 'Queen of Smørrebrød' Ida Davidsen who produced some grown up food for the hungry journalists.
To see what we made at the press event, visit our blog page here.
Funky Lunch teams up with Haven and Kingsmill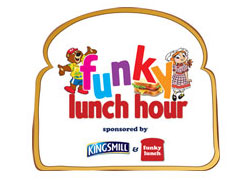 It's another great year ahead for Funky Lunch with our new partnership with Haven Family Holidays and Kingsmill bread.
We've created a Funky Lunch Hour activity club that combines all the creative food fun of Funky Lunch with the enjoyment you get from a Haven holiday. Using our specially designed recipe postcard, children will be able to create their own holiday sandwich using a selection of fresh ingredients including both white and wholemeal bread and a selection of salad vegetables. They will also create some funky music with food and instruments from the kitchen!
To find out more, visit our Haven activity page here, or for details on our partnership with Haven, read our press release.
Funky Lunch launches Enterprise Days and School Speaking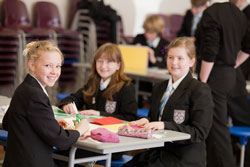 We are really pleased to have launched our enterprise workshops for secondary schools and sixth forms. These workshops still incorporate all the fun of a Funky Lunch creative food workshop but add in the additional challenge of creating a product that could be sold on a supermarket shelf.
At one of our recent enterprise days, students worked in teams to research, design and produce their product before pitching their concept to the rest of the group.
If that doesn't keep us busy enough, you can also book our founder Mark Northeast to come along to your school and amaze the students with his story of Funky Lunch. From an accidental beginning to working with national brands, it really is a story worth hearing. Please visit our Enterprise Workshops page for more details.
Local Business Accelerator win!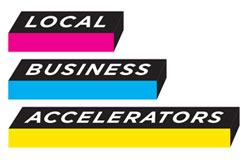 We were delighted to be selected from the large number of businesses in our area, as winner of the Local Business Accelerators competition run by the Herald & Gazette series of newspapers.

We are especially looking forward to the mentoring sessions from three of the areas top enterprise figures, which we hope will help Funky Lunch move to the next stage of our business plans. As a regional winner, we are now shortlisted for the national Local Business Accelerators prize of mentoring from Dragons' Den star Deborah Meaden.

For more information, visit the Local Business Accelerators website.
Funky secret to Rustington Otters' success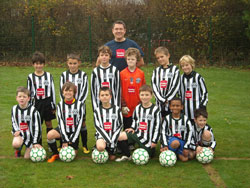 It seems our award winning success is rubbing off on local youth football team Rustington Otters. Only weeks after we began sponsoring the Sussex based team they've raised their game and even beaten the current league leaders in a recent match.

Despite becoming a global brand, with our Cookbook appearing in the media across the world, the heart and soul of the business is engaging with children on our Creative Food Workshops in schools. Sponsoring the Otters was a natural extension of our message that being healthy is as much about having fun as anything else.

For more information about our school workshops, click here.
Creative Food Design website launched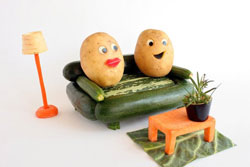 Our award winning food designer Mark Northeast has just launched his new website www.creativefooddesign.com offering bespoke food creations for advertising, promotions, packaging and events.

So whether you are looking for an image for an ad campaign, a way to enhance your product packaging or to promote an event, we can work with you to create a stand out piece of food art that will get your customers talking.

You can follow us on twitter at @MNFoodDesign or visit our Facebook page and 'Like' us for the latest updates.
Innovation Business Award success part two!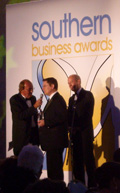 September 2011 - The Grand Hotel, Brighton was the prestigious setting for this years Southern Business Awards and over 300 people ensured it was a night to remember. Having already won the award in the Innovation category for our local area, we were automatically shortlisted as entrants for the same category competing against other regional winners.
With stiff competition from an established company with a forward thinking approach and a new social enterprise business with strong environmental ties, we were extremely surprised to be crowned the winner. The judges could see the passion that we have for encouraging children to try new foods and get creative with healthy ingredients, and felt that as a business we were moving in the right direction.
The award, sponsored by Spofforths Accountants was presented by Mr Alex Spofforth and compare of the evening, the long standing television presenter Fred Dineage.
High Fives all round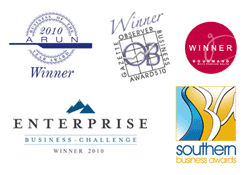 Never ones to take things for granted, here at Funky Lunch we truly appreciate every single bit of praise and recognition that our business receives, so to have won five awards in just over 13 months takes our breath away. Little did we know that one moment of sillyness to cheer up a grumpy four year old child would turn into such an amazing journey.

Starting in July 2010, from 2500 entries Dragons Dens star Peter Jones announced us as winners of his first ever Enterprise Business Competition and then later that year we were awarded Best New Business at The Arun Business Partnership awards. Before the year was out, our book 'Funky Lunch - Happy Food for Happy Children' won Best UK Children & Family Cookbook at the Gourmand World Cookbook Awards, and only just missed out on Best Childrens Cookbook in the World in March 2011.

Our most recent awards for Innovation, in both local and regional competitions have shown us that our concept and strategy are moving in the right direction and long may it continue.
Funky Lunch wins Innovation Business Award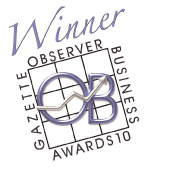 March 2011 - Funky Lunch were guests at Fontwell Park Race Course for the Observer & Gazette Business Awards 2010. Organised by the Observer Series of newspapers and the Littlehampton Gazette (our home town newspaper), we were delighted at being shortlisted, but even more surprised when we won!
Voted as winner of the Innovation category it is important to us to receive the recognition that we are taking our business in the right direction. We continue to feel passionate about encouraging children to try new foods and get creative with healthy ingredients, and look forward to helping feed more imaginations in the forthcoming year.
Having won this award, we now go forward as finalists to the Southern Business Awards to be held at The Grand Hotel in Brighton in September 2011.
Funky Lunch team up with Kingsmill for 25% offer!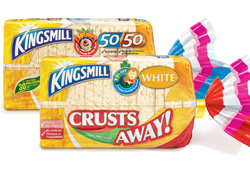 We've got together with the good people at Kingsmill to bring this exciting offer to you. 25% discount and free shipping when you order our book.
Just go to the Kingsmill website and collect the special promotion code, then purchase the book through our publisher Absolute Press and enter the code at checkout to receive your discount.
Promotional packs will be in UK supermarkets from approx 8th February until 1st April and is expected to appear on almost 900,000 loaves of bread, which is fantastic coverage for Funky Lunch.
Click the image to see a large version of the promotional pack.
Best UK Children and Family Cookbook at the Gourmand Awards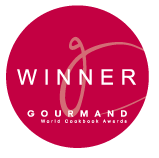 We are delighted to announce that our Funky Lunch book has been named 'Best UK Children and Family Cookbook' at the Gourmand Awards 2010. The Gourmand World Cookbook Awards were founded in 1995 by Edouard Cointreau. Every year, they honour the best food and wine books.
This award has really capped off an amazing year for Funky Lunch and we couldn't have achieved it without the creative vision of our publisher Absolute Press.
Funky Lunch picks up £10,000 prize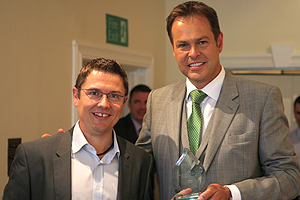 Thousands of entrepreneurs entered the first Enterprise Business Challenge, a competition launched by Dragons' Den judge Peter Jones for entrepreneurs who need a helping hand with their business and some capital to develop it.
The prize was a £10,000 cash injection, plus ten hours of legal, accountancy, PR and HR services from leading firms.
Last week, a judging panel including Maggie Choo, director of online business-to-business marketplace Alibaba.com which sponsored the challenge; Ian Smart, managing partner at Grant Thornton; Helen Loveless, enterprise editor of Financial Mail; and Peter Jones, chose winner Mark Northeast, of Funky Lunch, from a shortlist of six businesses.
Orchard books request a 'Scrummy' sandwich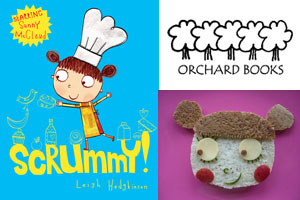 Having already worked with Orchard Books on our fabulous Charlie & Lola competition, we were delighted when then approached us to produce a sandwich to help promote the new paperback version of 'Scrummy!' featuring Sunny McCloud.
Look out for 'Scrummy!' coming soon.